"Not only does God definitely play dice, but He sometimes confuses us by throwing them where they can't be seen."
Stephen Hawking
I love him who is ashamed when the dice fall in his favour and who then asks: Am I then a cheat?
Friedrich Nietzsche
_______________________________________________________________________________________________________________________
Amazing how terrible things can turn into greatness. Isabella Strand knew that this day was a new beginning for her and a chance to get a new base for her. She had been a hobby coach, beside her work as a journalist, for a couple of years after attending the coach training at an accredited school. She had recently achieved the qualifications and last Friday she got her ACC certification from the International Coach Federation. The last six months had not been easy for her as she and her husband just separated and all the paperwork was done just recently. As Isabella and her now ex husband Marcus also had a child and a cottage there was some angry words shared during the process but all in all the divorce was fairly civilized. Much of the reason for the divorce was that Isabella for many years felt she tried failingly to reach out to Marcus to make him open up and also trying to make him take a more active role in their marriage and more responsibility for their son. After six years of trying she gave up and told Marcus that she wanted a divorce. Marcus, as a standard introvert man, was totally shocked and had not realized until it was too late that something was wrong at all. Isabella once ironically said "I should have written it in your Outlook Calendar." Her son David, who was now 8, was to be every other week at his father's new apartment pretty close to hers in Södermalm at the centre of Stockholm.  The cottage was pretty well located and fetched a fair price which Isabella and Marcus split evenly between them. So the divorce actually gave her an opportunity – some cash to invest in a coaching practice. She had never really appreciated the countryside anyway. Too much fishing and too many mosquitoes.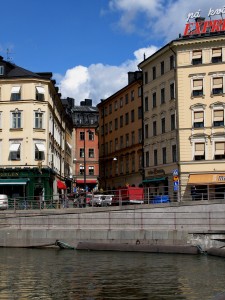 Today, after leaving David at school, she would sign the contract for the new practice. By some odd fluke she had come across an ad for a small place located beautifully in the oldest part of Stockholm. The Old Town was truly a picturesque place to run a business in and such a perfect location for coaching. Every building here had been used for so many things over the years and there were even medieval buildings close by. Change was written in stone here at the same time as you could say that you always bring history with you. Isabella was so happy that this chance had appeared on her horizon and grateful that she could take it too. What she didn't know was that the next few months would be more surprising to her than she could ever imagine and that events would develop in unexpected ways and directions. But today everything was all well.
A few hours later she stood outside her new business "home" waiting for her landlord to arrive. It was a grey day but her sun was shining from within so it didn't matter. Finally a blond lady appeared on the stairs and said "Hi, you must be Isabella! I am Anna." And sure enough she was right on both. Isabella thought that Anna looked nice and trustworthy, not so bad for a landlord…
The two rooms plus a waiting room were rather small but on the other hand the rent was fair and it would not take too much furniture either to fill them. Isabella started to imagine herself here and came to the conclusion that"Yes, this will be just fine!" Anna had brought the crucial bit of paperwork in a folder and it was time to fill in the necessary stuff. "Isabella Strand Inner Search (ISIS)" was the first item to fill in at the top and since her business not yet was a limited company she had to use her social security number. She noted "680404-1744" and realized that not only could someone tell that the company was owned by a woman but also that she was born in a certain county. "Never mind!" she thought. It was obvious to anyone seeing her that she was a woman, and the county thing she usually told people after an hour of conversation anyway. No secrets at all there. "A company these days has to be transparent". Anna informed Isabella that the former tenant had been a private investigator. "The rooms are already tuned for search!" she said. Isabella smiled and wondered who would be her first client here. Amazing synchronicity that Isabella had a "one liner" that in some weird way was connected. "Detect Yourself!" After signing all the copies and getting her own she received two sets of keys containing two keys for the practice door and one for the main door to the building. And there was a door code too. She tried to memorize it "1789". She suddenly realized that the code was a simple one to remember – it was the same year as the French Revolution and also the same year that the house was built! "This place will surely be a revolution for me too!" she said a little too loud, making Anna jump a bit by surprise…Then Anna had to run to meet another appointment so the two created the usual separation ritual and Anna was gone…
Isabella was alone in her new empty practice but she did not feel alone at all. She felt she had just met a new friend – and it had walls and a floor! Here she could do great things – great coaching, great business and just feeling great too. Tomorrow she would scout for the right furniture but right now it was time for one word, one shout "YES!" She had finally a home away from home….
Next week she will start her new life and right now she will be busy planning all the details. Right now someone else is also planning details – but not for life but quite the opposite!