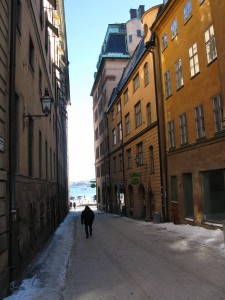 Yesterday was yesterday. Isabella felt that it had been a great day, but some of the coaching had not been so easy. She still had Camilla vividly appearing as soon as she closed her eyes for a moment. Amazing how easy it was to arrive the wrong conclusion. Better to let the client tell you more before starting to put things together. But Isabella loved putting things together! She had a flair for making sense of only fragments, a feeling for connecting them into something bigger. Her family had laid puzzles every Christmas when she was young and she had always tried to figure out "who did it" in the numerous detective stories she had read. If she had not become a journalist and now also a coach she might have wanted to become a detective or a policewoman. But both journalism and coaching was about finding out too. She had therefore chosen to have a "one-liner" in relation to her company and her e-message signature. "Detect Yourself!" And today she would have the pleasure of meeting her first cop! During her coach training there was a discussion on if you had to have field knowledge in order to coach someone and the class had been divided into two groups. One group believing that the process knowledge you had as a coach was quite enough, and the other maintaining that field knowledge was an asset and even crucial if you should coach a person higher or deeper into a special field. Isabella was inclined to agree that on one hand you could find more relevant filed questions if you knew stuff but on the other hand there was also a risk of the coach steering or colouring the conversation leading it to unwanted places. And now she was waiting for Harry the cop. She had no prior experience from police work other than her interest for detective stories. She hoped that he was nothing like "Dirty Harry" from the Clint Eastwood films. And nothing like Inspector Clouseau either. Isabella had been very lucky a few weeks ago and had by chance landed a deal with the Stockholm Police force. They had created a Personal Development Program for their leaders and one part of it was cash that the individual leader could spend freely. Three of the policemen had chosen coaching by ISIS. One of them was Harry Andersson.
She had already received information on the three cops that she had been "given". On Harry she read: "Inspector, The Criminal Investigation Unit, social security number 660526-1715, married, 2 children, Stockholm".  Isabella deducted that Harry was born not so far from where she was born. "I wonder where."
Enter Harry! Mr Andersson was a mid-tall, mid-thin and mid-grey man. At first glance no one would detect him in a crowd, but when he started to speak he gained the room back by his empathic, open attitude. A more perfect police officer than could be expected really. And he had chosen coaching to develop himself too! Isabella felt happy to meet him at once. This session might be even more interesting than usual. Harry Andersson curiously checked out the practice, the availability of coffee and Isabella and finally he relaxed and became coachable. First they talked a while on the long term goals Harry was expecting from his coaching relationship with Isabella and Harry had a vague feeling that he wanted to become clearer in his relations at work and to get more focus into his daily life in order to be more efficient at what he does. He had recently been put into a new role as an inspector investigating fairly complicated cases and even murder and he had not yet passed the rookie state in the unit according to himself. "The others don't see this of course, but I know." Isabella replied that this was a process well worth investigating and a process known in other professions too. "What areas are we talking about here?" she said. Harry hesitated a second, reflecting on the question. "I think there are three…hm…first the balance thing between work and home, then the work relations that I need to define and finally there is finding a method, a focus,  a way to really get results in my investigations as it seems committing crimes are getting into fashion 2010." Isabella stopped breathing for a second. As the deal with the Police only covered six coaching sessions they really had much work ahead with three areas any of which would take six. As a journalist she knew to take the most important stuff first. "What area do you think is the most urgent one?" "Well all of them are, really. And I feel that they cannot easily be divided either. That is perhaps also a problem." "OK Harry, do you think we could start by you just telling me about yourself right now and then we take it from there – can that be the plan for today?" "Yes, we can do that." "So what can we agree on to achieve today? What would you be OK with after this first session?" "A bit hard to say….perhaps that I feel that we have started to pin down my situation and that I know where I am." "So if we have defined a number of issues to resolve today that would be OK?" "Yes that would be fine." "How many issues are we talking about then – three?" "I think there should be more, perhaps five." Isabella and Harry agreed on pinning down five issues today they should try to resolve during their coaching relationship. "Alright Harry, tell me about the life of Harry!" Harry smiled and started to tell Isabella about work, his present family and his former family, his twin boys who were 9 now "and blonde as wheat", his trouble getting the hang of the unit and how his family was getting a bit tired of him staying late at work and still arriving home with more."Amazing how thing can get complicated and it seemed like I became someone else in only a few weeks after starting on this job. Just like my two twin boys look almost exactly the same but they are two completely different people. And still they both exist in the same family and have the same genes! I may have become my own evil twin!" "And your "former family" – how come that didn't last?" "The same old story. One of us began to study and found new interests and a new angle to life. The other stayed the same and wondered what happened. Hundred years ago the "until death do you part" was true. You actually did not live long enough to get tired of each other. Today we have room for at least two lives! I am not at all sure that this is a good thing." Harry went quiet for a while and Isabella saw a little sorrow spreading in his face. She quickly got them back on track again "So how does the evil twin work for you?" "Actually he doesn't. Neither at work nor at home. I want to get rid of him." "How do you feel about him?" "I hate him!" "Good. Hate is a splendid motivator." Harry laughed. "Hate, money, love – all the classic murder motives eh?" "I suppose so." Isabella worked hard to meet the goal for today's session but towards the end it was clear that five issues was not to be pinned down today. Isabella said "Where do you feel we are right now Harry?" Harry of course realized too that the original objective still eluded them. "We haven't pinned down the five issues yet!" "So what do you think about them right now?" "Perhaps I need to first figure out who I am right now before going on to think about where I am…" "Is that something you will take with you from this session and something we can start with at our next?" "Yes, I think so." After finishing the session by agreeing on a new session and letting Harry off the hook this time Isabella reflected on the session. The "several lives during one life" was interesting, but she also thought that you actually also lived several lives every day in your different roles. Isabella was a coach, a journalist, a mother, a daughter, a woman, sometimes a little girl, a human being and a part of the fabric of the earth. She smiled to herself seeing how "Next Age" that thought was. She har heard about "Next Age" the other day as the successor of "New Age". It was funny in a way.  The latest flu was officially named "The New Flu" in Sweden. Perhaps the next one will be "The Next Flu"? And then what? Naming is hard….but Isabella clearly saw one thing from the session with Harry – You don't only live once or even twice! There is more….for good or bad….